Oakland is located in the heart of the Belgrade Lakes region and is also home to FirstPark – Maine's Premiere Business and Technology Center.
We are a full service community and would invite you to learn more about us by exploring our website. Our governmental goal is to provide quality public service at reasonable cost.
Oakland strives to promote quality of life for both our residents and guests. Oakland is home to two beautiful public beaches located on two separate bodies of water. We have hiking trails, ball fields, three picturesque lakes and lots of country side.
We hope this Internet site allows us to better serve you. We hope that residents and visitors alike find our web site comprehensive and helpful, and we would be pleased to hear about ways in which it can be of more assistance to you.
TOWN COUNCIL MEETING:
Wednesday, January 10th@ 6:00 pm. Location: Oakland Police Station in the Cascade Room.
Municipal Committee Meetings
Comprehensive Planning Committee Meeting: 12/28/17 @ 4:00PM, 01/16/18 @ 4pm, 01/17/18 @ 4pm, 02/06/18 @ 4pm. Location: Cascade Room.
Oakland Downtown Committee Meeting: 01/16/18 @ 2:00PM. Location: The Pressey House.
–OakFest Committee Meeting: 01/08/18 @5:30 pm. Location: The Cascade Room.
–Transfer Station Steering Committee Meeting: 01/17/18 @ 3PM. Location: Cascade Room.
—Oakland Facilities Committee Meeting: 01/11/18 @ 4pm. Location: Cascade Room.
–Oakland Board of Appeals Meeting: 01/11/18 @ 6:30pm. Location: Cascade Room. Meeting agenda- Public hearing for an after the fact setback variance request from Rick Rhinehart.
Oakland Food Pantry hours:
Open every Thursday between 4pm-6pm.
Location: 14 West School Street.
For More Information, call the Oakland Town Office at 465-7357
OakFest 2017 was a huge success. Thank you to all who made this event possible.
OakFest 2018
Mark your calendar for July 27th, 28th and 29th, 2018. We are making plans for another great event in 2018!
Please call 465-7357 for more information.
OAKFEST
Please see the above link for OakFest 2018 information.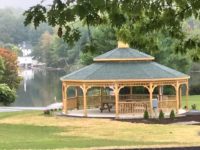 Water Front Gazebo
Now available for small events. Call the Oakland Town Office at 465-7357 for details.
 Oakland Comprehensive Planning Process
 Credit/Debit Cards
The Oakland Town Office accepts credit and debit cards. Please note: a 2.5% service charge will be added to all credit/debit payments to cover processing costs.  The minimum service charge is $1.00.
RAPID RENEWAL SERVICE
With Rapid Renewal citizens of Oakland may quickly renew their motor vehicle registrations online. At this time we are accepting E-checks only for payment. Please visit the website at: www.SOSonline.org and click on Rapid Renewal.
Experience What Oakland Has To Offer!
What are the Town Office Hours?
Monday – Thursday 8:30 a.m. to 4:30 p.m. Friday 8:00 a.m. to 4:30 p.m.
What are the Transfer Station Hours?
Wednesday – Sunday 9:00 a.m. to 4:00 p.m. Closed Monday and Tuesday
What do I need to register a vehicle for the first time?
Title, bill of sale, mileage and proof of insurance.
What do I need to license a dog?
Valid rabies certificate and proof of spaying or neutering.
Where do I register to vote?
At the Oakland Town Office.  Proper identification is required (drivers license, social security card or proof of residency).
Where do I obtain a burning permit?
At the Oakland Fire Station from 7:00 a.m. to 12:00 p.m.   FMI please call 465-2631
"In accordance with Federal law and U.S. Department of Agriculture policy, this institution is prohibited from discriminating on the basis of race, color, national origin, sex, age, or disability." (Not all prohibited bases apply to all programs). To file a complaint of discrimination, write USDA, Director, Office of Civil Rights, 1400 Independence Avenue, S.W., Washington, DC 20250-9410, or call (800) 795-3272 (voice) or (202) 720-6382 (TDD)