Oakland Fire & Rescue Honor Roll
OAKLAND FIRE RESCUE DEPARTMENT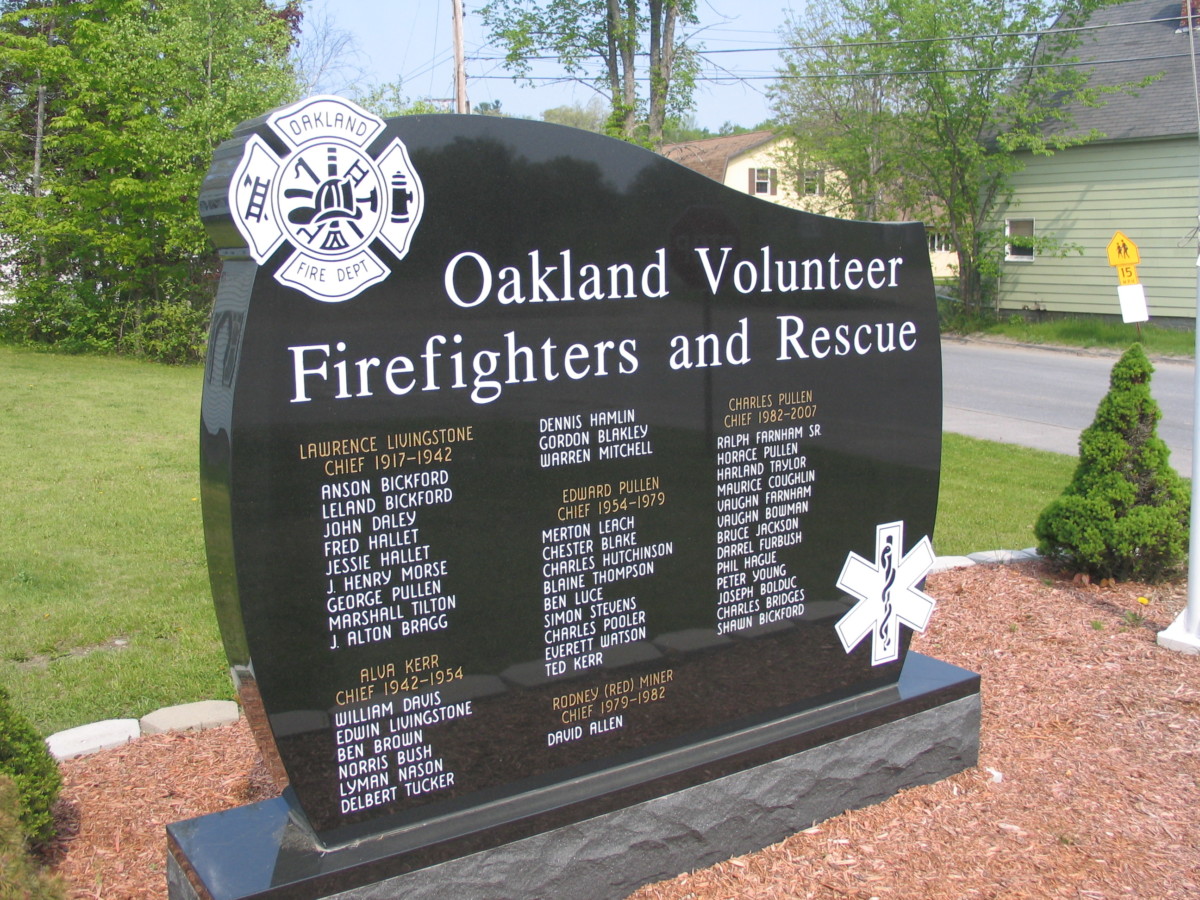 In 1880 a group of local industrial and business leaders established the Citizens Independent Fire Association. The Association was formed to guard against the ravages of fire because the City of Waterville refused to provide protection to the village of West Waterville (Became Oakland in 1883).
The people of Oakland, at the annual town meeting of 1888, voted to buy the Atlantic Fire Engine (still owned by the Town), hose and related equipment from the Association. This action established the Town of Oakland Fire Department.
Today the Oakland Fire Department proudly protects approximately 6,300 year-round residents living in an area of 27 square miles. We operate out of 2 stations with the following response vehicles:
2011 Engine 4 Rescue Pumper 1000 gallons of water, 1500 gpm pump
2004 Aerial 1 75' Quint 500 gallons of water, 1500 gpm pump
2004 unit 9-6 F250 pick-up truck
2003 Engine 2 Mini Pumper with 300 gallons of water and 1000gpm pump
1998 Rescue 4 Light duty rescue with EMS equipment
1993 Engine 5 2000 gallon pumper tanker, 1250 gpm pump
1985 Engine 3 2000 gallon pumper tanker, 1000 gpm pump
Our Department responds to over 1,000 fire, service and EMS calls per year and is staffed with a full time Fire Chief, 1 daytime per-diem and 25 paid on-call volunteer firefighters and EMT's. We actively participate with the neighboring departments of Belgrade, Fairfield, Sidney, Rome, and Smithfield with automatic mutual aid agreements in the event of a fire.
Chief David Coughlin
The following are some of the services that the Oakland Fire and Rescue provide:
Chief David Coughlin and Fire Fighter EMT Tony Thibodeau are both appointed Health Officers for the Town of Oakland.
Public Safety Education
Fire Suppression
Emergency Medical Services
Light-Duty Rescue (vehicle extrication, air bags)
Ice & Water Rescues
Hazardous Material Operations w/Rescue
Fire Pre-Planning
Assistance to other Town Departments
Mutual Aid
Inspections
Carbon Monoxide Monitoring
Confined Space Rescue & Stand-by
CPR Training
Fire Extinguisher & Fire Safety Training
EMS Stand-by for Events
Current chief officers for the Department are Chief David Coughlin, Deputy Chief Hardy Taylor, and Assistant Chief Vaughn Farnham.