Oakland Public Works

The Public Works Department was first organized in the early 1970's.   In 1976 the Town constructed its first real public works garage located off Fairfield Street (Route 23).  This is still the headquarters for the Department although the original structure has been significantly enlarged and modernized.
The Department employs eight individuals including a director and a full time Road Foreman, and has an annual operating budget of $960,259 (2016-2017).  The Public works department consists of a Public Works Director, a foreman, a mechanic and 5 truck drivers/equipment operators.
The Department has the responsibility (summer and winter) for maintaining 31 miles of town road and approximately 18.5 miles of State roads (winter only).
In the winter, the crew utilizes 6 plow and sanding trucks and two smaller 1-ton trucks for cleaning hard to get areas. In addition, the town has a sidewalk plow for Main Street and other village areas.
Oakland is fortunate to have personnel who are capable of performing total road reconstruction projects.  The Town has saved many thousands of dollars over the past few years by not having to bid this work out.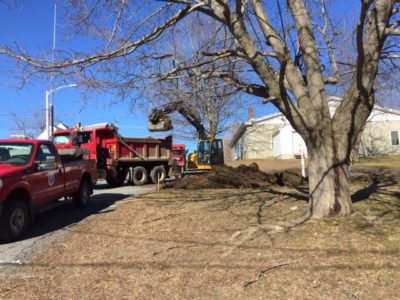 Oakland Public Works
Public Works Director: Jeff Hall
Road Foreman: Roland Cote
P.O. Box 187
Oakland, Maine 04963
Monday thru Friday 7:00 A.M –  3:30 P.M.
Phone: (207) 465-2408  Fax: (207) 465-2408