Transfer Station
Transfer Station Manager Dan Hapgood                  Full Time Staff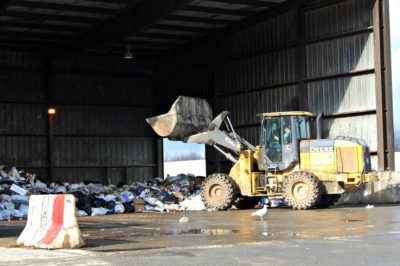 The Town of Oakland has one of the most full service recycling and waste disposal facilities in the greater Central Maine area.
This facility, located on the Town Farm Road, accepts all residential and commercial waste items except for certain household hazardous or universal wastes (televisions, computers, fluorescent bulbs, etc.).
In addition, the town contracts with Waterville and Winslow for disposal of residential household waste.  All of this waste is delivered in packer trucks and is then transported (along with Oakland garbage) to the PERC incinerator in Orrington.  In all, the transfer station crew loads about 10,000 tons/year in trailers for disposal at PERC.
The facility does have a separate recycling building, the town does recycle the following items:
glass    
cardboard
tin
newsprint
plastics
Compostable Food Waste
The Town of Oakland has just recently voted to join the MRC (Municipal Review Committee). By doing this, we will be hauling our trash to the new Fiberight Facility in 2018. This new facility brings new technology to Maine and is being built in Hamden, Maine. For more information on this exciting new project, call either the Oakland Town Office at 465-7357 or the Oakland Transfer Station at 465-4732.
The town also maintains a licensed landfill for construction debris and certain bulky waste items.  
Oakland Transfer Station
Attn:  Daniel Hapgood
P.O. Box 187
Oakland, Maine 04963
Hours: Wednesday thru Sunday 9:00 A.M. – 4:00 P.M.     
Phone: (207) 465-4732  Fax: (207) 465-4732